Why is Hans Christian Andersen (sometimes misspelled Hans Christian Anderson) so special name in the world of children literature? Why most of the literary critics believe he is the biggest fairy tale writer ever? O.k., he wrote a couple of big hits like The Little Mermaid, Thumbelina, Princess and the Pea, The Ugly Duckling…), but we can find at least ten other great authors from the same field and without their own World Day.
Let me provide some speculations!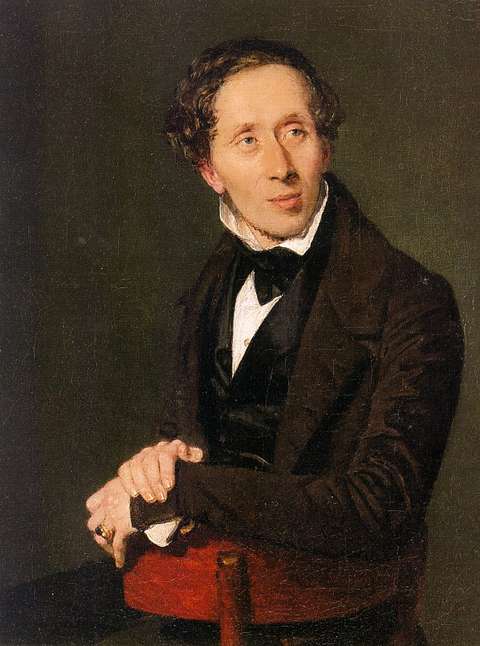 Hans Christian Andersen portrayed by Christian Albrecht Jensen
I think three reasons would be enough for a start:
Andersen's life was sort of a fairy tale by itself. He was born poor, a son of an unemployed shoemaker who died relatively young, his life was full of obstacles, he had problems with learning, was not good-looking, socially clumsy, but he followed a dream and after many disappointments eventually became rich and famous. He dined with kings and his writings made him a really big star. For many years just about everybody in Europe knew about him and his works.
Writing of Hans Christian Andersen was much different than the writing of his contemporaries. It was simple, to the point and after all these years it still feels fresh. Most of his contemporaries, on the other hand, are totally unreadable now. While critics diminished Andersen's work at first, claiming he is only half literate, the audience fell in love with his fairy tales right from the beginning. Fairy tales were not his first try in literature, he actually built first profit with essays, he also wrote plays and was a pretty good poet, but fairy tales shot him to the stars. Interestingly his fairy tales were more praised in Germany at the beginning and Brothers Grimm by mistake actually included one of Andersen's fairy tales in one of their editions of German folktales.
In Andersen's Fairy Tales (I'll write a special post about that subject) we can find situations and relations from his time and critique of the time itself. While most of his stories rely on already known folktales and even fiction by known authors, he included numerous autobiographic elements, loads of emotions and relatively complex characteristics of personalities borrowed from his friends and acquaintances. This was a revolutionary approach in traditionally conservative fairy tales which is now widely accepted in modern fairy tales writings.
And what do you think about Hans Andersen and his work?